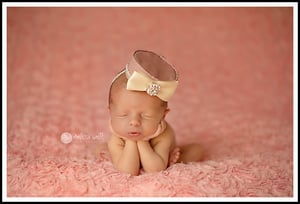 $

20.00 - On Sale
1960's Gardenia Rose Pillbox Hat for Newborn Portraiture
3-1/4" round Gardenia Rose Pillbox Hat for Newborn Portraiture
Pillbox hat is covered in rose colored silk shantung fabric and embellished with a vream satin bow that embellished with gorgeous rhinestone in the center. Circumference of hat is then adorned with an intricate cream trim. Ivory stretch lace that is approximately 8" is attached for wear. Can fit child up to 1 year snuggly as lace is very stretchy.
This 1960's Pillbox Hat is sure to add a uniqueness to your newborn portraiture that CANNOT be found anywhere but here in my boutique! These are handmade by Kristen Caldwell, Photographer.
Made for Photographers Intended for use in Professional Portraiture
Item is NOT a toy and should NOT be left on any child unattended
Shipping included in price... Will ship to US address ONLY
Item is shipped USPS... no tracking is provided...
Thank you to Joy, owner of Snazzie Drawers (http://snazziedrawers.com/) for always being an inspiration and friend! And for helping me nail down the pillbox base pattern :-)